# Boys and girls of every age #
# Wouldn't you like to see something strange? #
# Come with us and you will see #
# This, da Bugans Kinhouse #
# This is Halloween, this is Horrorfest #
# Pumpkins scream in the dead of night #
# This is Horrorfest, everybody make a scene #
# Trick or treat till the neighbors gonna die of fright #
# It's your fest, everybody scream #
# In this da Bugans Kinhouse #
# La, la, la, la, la, la #
# La, la, la, la, la #
Woohoo!!!
Once again, Horrorfest was terrific!
Thanks a lot to the amazing bands!
Thanx you very much to the audience. You were just FANTASTIC!!!!
Thanx to Skoch and the Bugans Crew, and those who helped, without whom this event would not have taken place.
Again, Special mention to the amazing garden background and superb scary da Buganz haunted house.
Personal thought to Calanne who could not be there this time. Calanne ? If yu read it! WE L.U.V. yu!
Was really awesome Music Marathon!!! ./toasts
And awfully scaring!!! Yeah!
Here are the Bara Funda Creepy Streamings.
As again, The curse of the Gaunt Lord ruled the festival !!!
(*)
(For my own, I made my most sincere apologies to Bands & Crowd, the streaming is not up to the quality of work you have produced for this event: beautiful and various clothes, great choice of playlists, lyrics original compositions.)
Here, for proofs, in vidcaps streaming :
Horrorfest 2015 - Saturday October 30th - Landroval - da Bugans Kinhouse
*
Horrorfest 2015 - A Rock And A Hard Place
*
Horrorfest 2015 - Notenzauber & Friends
*
Horrorfest 2015 - The Traveling Bilberries
*
Horrorfest 2015 - The Crazy Witches of the Forest
*
Horrorfest 2015 - Old Winyards
*
Horrorfest 2015 - P.I.E.
*
on Youtube's Freemark channel : Let's Play LOTRO - PIE plays at Horrorfest - 10-30-2015
*
Horrorfest 2015 - Les Beaux Chapeaux
*
Horrorfest 2015 - The Grayhawke Band
*
Horrorfest 2015 - DisEnchanted
*
Horrorfest 2015 - da Bugans
*
Horrorfest 2015 - Bara Bahau
(*)
No major weird technical problems as lag monster, pop disconnects, or disappearances parts of streaming this time but a Major Offensive from the Gaunt-Lord to avoid the Huorns Attack : The LOTRO Game Servers will be brought down on Friday, October 30th from 4:00 PM - 7:00 PM Eastern (-4 GMT) for a hotfix. Then Skoch rules them all and rescheduled the event wit' mastery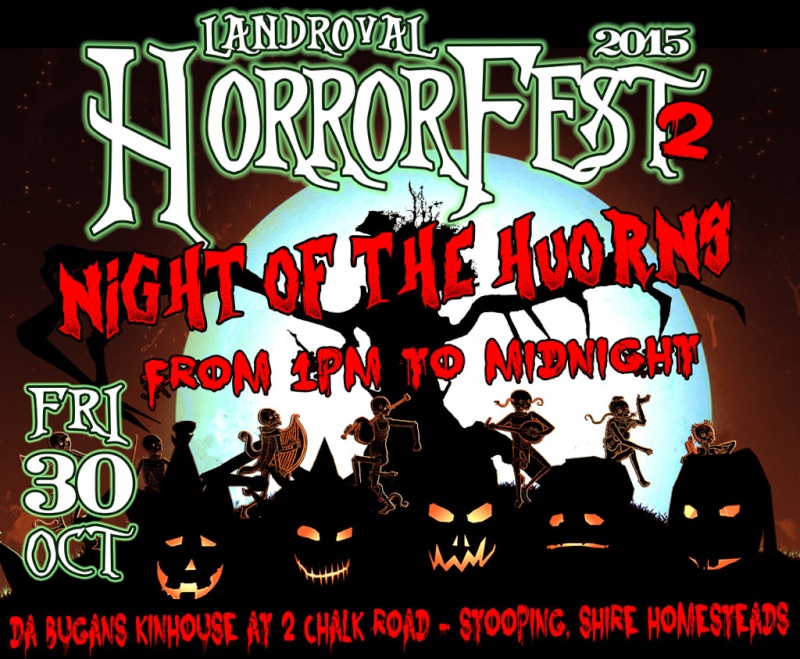 Zed'RAW'Bararock Luv You!